Tig Congaile Bed and Breakfast Galway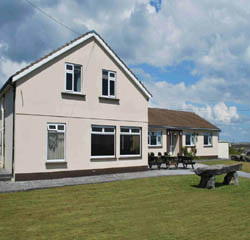 It's easy to indulge in simple pleasures at Tig Congaile, pleasures as simple as crisp, clean sheets, and open skies, and time. Relax your shoulders and open up your senses! Take a deep breath! You can hear small birds chattering, and that distant roar is the swell and fall of the ocean. Enjoy the view through the window of the magnificent Cliffs of Moher, or get out and stroll about a verdant island, criss-crossed with stone walls and dotted with wild flowers. Leave the only trail of footprints on a clean beach, and then have the craic while you sip on a pint in a Gaeltacht pub. Do some yoga or sleep in. It's simple. It's just plain nice.
Tig Congaile B&B is a calm, cozy guesthouse on the island of Inis Meáin. Our rooms are comfortable  (and en suite), and the food that leaves our kitchen is given thought, care and attention all the way from our garden to our menu to your plate. Most of our vegetables come from our backyard, grown organically. The fish is fresh. The coffee in our little café is whipped up with a barista's pizazz. We're not out of touch with the world and you won't be either. All our rooms receive wifi signal. We utilize solar energy, and our garden is fertilised with seaweed and watered with captured rainwater. Our cleaning products are biodegradable and easy on nature. We're aware that we're fortunate to live in such a special spot. Rough Guides calls Inis Meáin "the most unspoilt of the Arans", which is saying a lot. The beauty of the island motivates us to operate our B&B as environmentally sustainably and respectfully as we can. Tig Congaile Bed & Breakfast is going green one step at a time. Whether you come for a short-stay break, a weekend getaway, a stop-off on a tour of Ireland, or a longer put-your-feet-up holiday, we're positive that you'll leave feeling charmed, rested, and revitalized.
Tig Congaile Bed and Breakfast Galway Map