Killarney House Bed and Breakfast Kilkenny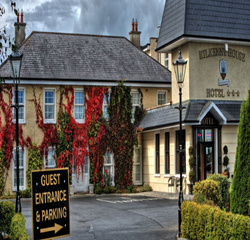 Enter the warmth and style of Kilkenny House Hotel. The hotel is located on a landscaped two acre site where ample parking is provided free to patrons. Spacious, tastefully decorated rooms with power showers, TV & free WiFi.
Ideally located just 1km from Kilkenny City centre and is situated between the two hospitals of Aut Even and St. Luke's. 5 minute walk to Kilkenny Greyhound track, Nore Linear Park & River walk.
Kilkenny House Hotel offers exceptional value for a Kilkenny City hotel. We are only a few minutes from all major bars, restaurants and Kilkenny Attractions.
Comfort Accommodation
Built to an excellent 3 star standard, we have 30 spacious and tastefully decorated bedrooms. As an owner operated hotel we gaurantee excellent value for accommodation, food and beverage in Kilkenny City.
Killarney House Bed and Breakfast Kilkenny Map