Days Hotel Kilkenny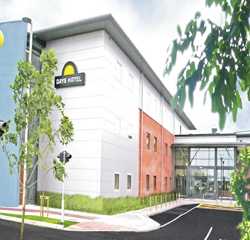 Situated just 2 km from the wonderful medieval city of Kilkenny, this hotel was recently opened in June 2006 and offers luxurious rooms.
Rueben's restaurant is open throughout the day serving a delicious selection of hot food and snacks, and you can also enjoy a drink in the relaxing open plan lobby.
The hotel has excellent conference facilities and is about 5 minutes drive from the bustling Kilkenny city centre. All the rooms are designed in a fresh, contemporary style with simplicity and your comfort in mind.
Rooms: 80. Hotel Chain: Days Inn.
Whether you are travelling to Kilkenny on business or for a leisure break, you will find the accommodation clean, comfortable and facilitated with all modern conveniences.
There are a total of 82 guestrooms available to book at the Days Hotels. Each room has been designed with the comfort of the valued guest foremost in mind. They are designed in a fresh contemporary style, ideal for a thorough and complete nights sleep.
Disabled access rooms can be booked also.
Accommodation at the Days Hotel, Kilkenny
Guests to the Days Hotel can expect to find the following hotel amenities –
•Hypnos beds with crisp white duvets
•Tea/Coffee Station
•Direct Dial Telephone with voice mail
•Multi channel television with built in CD/DVD player
•High speed internet access
•Iron & Ironing Board
•In room safe, lap top size
•Hairdryer
•En suite bathroom with power shower
•Electronic Door locks
Days Hotel Kilkenny Map